top 10 greatest moments of IPL history
By Akshay - March 21, 2022 - Last updated on Mar 21, 2022 03:36 PM
Image Source: India TV News
IPL 2022: Going to start from 26th March
Top 10 greatest moments of IPL history
The IPL has produced some really great moments since its inception. There are a lot of great moments that could make you feel nostalgic when you look at the transformation of the tournament.
1. Chris Gayles 175
Image Source: Sportskeeda
After winning the toss and electing to field first, PWI soon realized their mistake. Chris Gayle looked in scintillating form has he hammered bowlers to all part of the ground. He scored the fastest century in T20 cricket reaching his century off just 30 balls.
Chris Gayle finished on a mammoth 175 from 66 balls with 13 fours and 17 sixes helping his team post the highest total in IPL history (263/5).
2. CSK's triumphant return
Image Source: Sportskeeda
CSK was banned for two years from participating in the IPL. Hence, their return was met with great appreciation from the fans.
CSK remained on a roll throughout the tournament and looked unstoppable. They finished in second place on the points table and even the reached the final.
This moment will always be remembered as one of the greatest moments in IPL history because of the amount of emotion involved.
Image Source: CricTracker
They didn't have a lot of international cricket stars at the time. However, with Shane Warne as the captain and head coach, the Royals had a solid man leading them.
They surprised everyone by winning 11 out of their 14 league matches. Royals faced Delhi Daredevils (now Delhi Capitals) in the semi-final, beating them comprehensively by 105 runs.
4. Brendon McCullum's 158 in the inaugural match
Image Source: CricTracker
Brendon McCullum, the New Zealand wicketkeeper, opened the innings with Ganguly. A top edge flew over the third man boundary for a six.
He hit IPL's first ever century and carried on to go past 150. This was the first time when a batsman had crossed that landmark in a T20 match. He ended with 158* runs off 73 balls, with 10 fours and 13 sixes.
5. AB-Kohli 229 run partnership against Gujarat Lions
Image Source: Sportskeeda
IPL season will always be remembered for the way that Virat Kohli and AB de Villiers batted.
Both batsmen scored brilliant centuries in a 229 run partnership. It was raining fours and sixes at the Chinnaswamy stadium as they both hit a total of 15 fours and 20 sixes. Kohli was dismissed in the final over, but the damage was already done. RCB finished with a massive total of 248/3.
6. Chris Lynn's spectacular catch
Image Source: Sportskeeda
Lynn took an absolutely spectacular catch to dismiss de Villiers.
After losing the toss and being put in to bat first, KKR managed to put on a total of 150/7 thanks to contributions from Jacques Kallis (43 from 42 balls), and Chris Lynn (45 runs from 31 balls).
7. Rajasthan Royals chase down 217 runs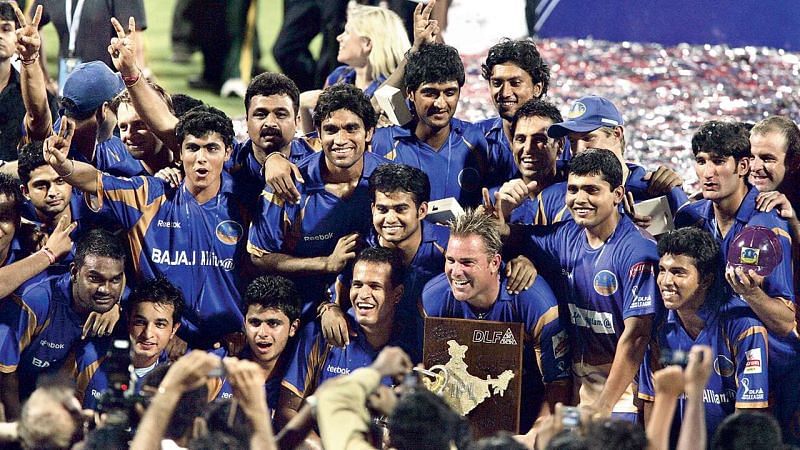 Image Source: Sportskeeda
Rajasthan Royals were considered the underdogs during the inaugural edition of the Indian Premier League.
The Royals won the toss and elected to field first. Deccan lost a couple of early wickets, but a century from Andrew Symonds helped steady the innings and Deccan Chargers reached a total of 214/5 in 20 overs.
8. Anil Kumble's 5 wickets for 5 runs
Image Source: Sportskeeda
After winning the toss and electing to bat first, Royal Challengers Bangalore posted a total of 133/8 In 20 overs thanks to a great knock of 66 by Rahul Dravid.
But nothing is impossible for the in-form leg-spinner Anil Kumble against Rajasthan Royals. He ended the match with five wickets for five runs as Rajasthan Royals were bowled out for just 58 runs.
9. Adam Gilchrist's wicket
Image Source: Sportskeeda
Adam Gilchrist terrorized bowlers for many years in the IPL. He had always been this polarizing figure behind the stumps.
He was ready to bowl the last over of the match for his team. Kings XI Punjab already had the match won. Hence, Gilly thought it would be fun to have a bowl.
10. Pollards Hat-Trick of Drops
Image Source: NDTV Sports
An incredible passage of play saw Kieron Pollard drop Michael Hussey three times in three deliveries!
Also Read:IPL 2022: List of players who are not available for the first week
---