Match Previews:
NBA 2021-22 will see Brooklyn Nets facing off against Boston Celtics on Sunday, 24 April 2022 at 05:00 AM IST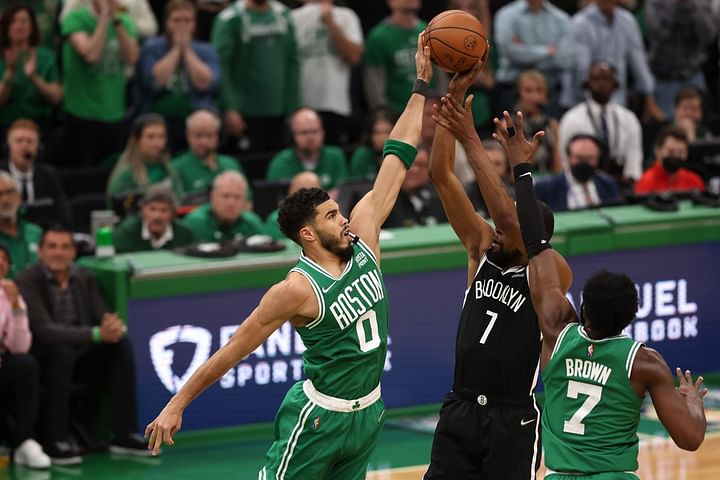 The Celtics have taken a 2-0 lead in this series. Game 1 was a close contest and was decided by Jayson Tatums buzzer-beater.
However, that wasnt the case in Game 2. Boston, who were down by 17 points early, thoroughly outplayed Brooklyn in the second half to register a 114-107 comeback win.
Kevin Durant and company have a stern test ahead. It will be up to them to take advantage of their home-court advantage in order to cut Boston Celtics series lead to one game. Another loss will damage their hopes of saving the season significantly.
Boston Celtics
The Boston Celtics have managed to carry their regular-season form into the playoffs in style. They have been highly efficient on both ends of the floor.
The Celtics have done a remarkable job of preventing the likes of Kevin Durant and Kyrie Irving from making a significant impact on offense. Boston held the dynamic duo to only 1 of 17 shooting in the second half of Game 2 at TD Garden.
Ime Udokas men also had seven of their eight active players score in double-digits. This helped them dismantle Brooklyns woeful defense and erased a 17-point deficit to win the game.
Brooklyn Nets
The Brooklyn Nets were the preseason favorites to win the NBA championship this year. However, all signs point toward an early playoffs exit for Steve Nashs side. Brooklyn doesnt have the depth, especially defensively, to deal with a solid two-way team like the Boston Celtics.
The Nets were heavily reliant on their offensive prowess. However, when Kevin Durant and Kyrie Irving were shut down by the Celtics defense, Brooklyn didnt seem to have any tricks up their sleeve.
The Brooklyn Nets ideal game plan should be to involve every active player on offense to take attention off Durant and Irving.
Players like Seth Curry, Patty Mills, and Andre Drummond should be given more opportunities to flourish on offense, as it could allow KD and Kyrie significant space to operate.
Fantasy Tips
Boston Celtics team has the upper hand over Brooklyn Nets team. So try to pick more players from Boston Celtics
Small League Must Picks:
BKN:
Kevin Durant [1508 points], Bruce Brown [1021 points]
BOS:
Jayson Tatum [1998 points], Jaylen Brown [1364 points]
Grand League Risky Picks:
BKN:
Kessler Edwards [383 points], Kyrie Irving [674 points]
BOS:
Daniel Theis [395 points], Payton Pritchard [501 points]
Brooklyn Nets Key Players:
Kyrie Irving
Seth Curry
Andre Drummond
Bruce Brown
Kevin Durant
Boston Celtics Key Players:
Derrick White
Robert Williams
Marcus Smart
Jaylen Brown
Jayson Tatum
Best Choice for Captain and Vice-Captain:
Seth Curry
Andre Drummond
Robert Williams
Marcus Smart
Kevin Durant
Jayson Tatum
Injury/unavailable
Brooklyn Nets NBA Team Injuries:
There are no injury updates as of now.
Boston Celtics NBA Team Injuries:
There are no injury updates as of now.
Squads
Brooklyn Nets Squad:
Kyrie Irving, Seth Curry, Patty Mills, Kevin Durant, Kessler Edwards, Bruce Brown, Andre Drummond, Nicolas Claxton, David Duke JR, Goran Dragic, Dayron Sharpe, Ben Simmons, Cam Thomas, Blake Griffin, LaMarcus Aldridge
Boston Celtics Squad:
Derrick White, Marcus Smart, Nik Stauskas, Jaylen Brown, Grant Williams, Jayson Tatum, Robert Williams, Daniel Theis, Malik Fitts, Juwan Morgan, Luke Kornet, Brodric Thomas, Payton Pritchard, Aaron Nesmith, Sam Hauser, Matt Ryan, Al Horford
BKN vs BOS Dream11 Experts Team
Dream11 SL Team
This Page Contains
BKN vs BOS match prediction
,
BOS vs BKN match prediction
,
Brooklyn Nets vs Boston Celtics match prediction
,
BKN vs BOS dream11 match prediction
,
BKN vs BOS fantsy prediction
,
BKN vs BOS fantasy tips
,
NBA 2021-22 League match prediction
,
NBA 2021-22 League dream11 prediction
,
NBA 2021-22 series
,
BKN vs BOS dream11 Tips and Trics
,
BKN vs BOS Dream11 Winning team
,
BKN vs BOS dream11 grand league winning team
,
BKN vs BOS dream11 small league winning team
,
BKN vs BOS dream11 SL team
,
BKN vs BOS dream11 GL team
,
BKN vs BOS todays Dream11 Winning Team
,
BKN vs BOS match updates
,
BKN Squads
,
BOS Squads
,
Brooklyn Nets Squads
,
Boston Celtics Squads
,
BKN vs BOS probable playing 11
,
BKN vs BOS confirm playing 11
,
BKN vs BOS match previews
,
BKN team updates
,
BOS team updates
,
Brooklyn Nets team updates
,
Boston Celtics team updates
,
BKN vs BOS top picks
,
BKN vs BOS Captain and Vice-Captain Choices
,
BKN vs BOS Dream11 Experts Team
,
BKN vs BOS Telegram channel
,
NBA Telegram channel
,
BKN vs BOS Today match prediction
,
Dream11 today match prediction
,
Today NBA match prediction
,
BKN vs BOS live updates
,
2022-04-24 05:00:00 NBA matches
,
All matches on Sunday
,
List of NBA matches on Sunday 24th April 2022
,