UTA vs PHX Dream11 Team Prediction, Fantasy NBA Tips
Utah Jazz vs Phoenix Suns Dream11 Match Prediction
NBA 2021-22
Last Updated on Feb 02, 2022 12:23 PM
Match Date & Time:
2022-01-27 08:30 AM (IST)
2022-01-27 03:00 AM (GMT)
Venue: Vivint Arena, Salt Lake City, UT
Match Previews: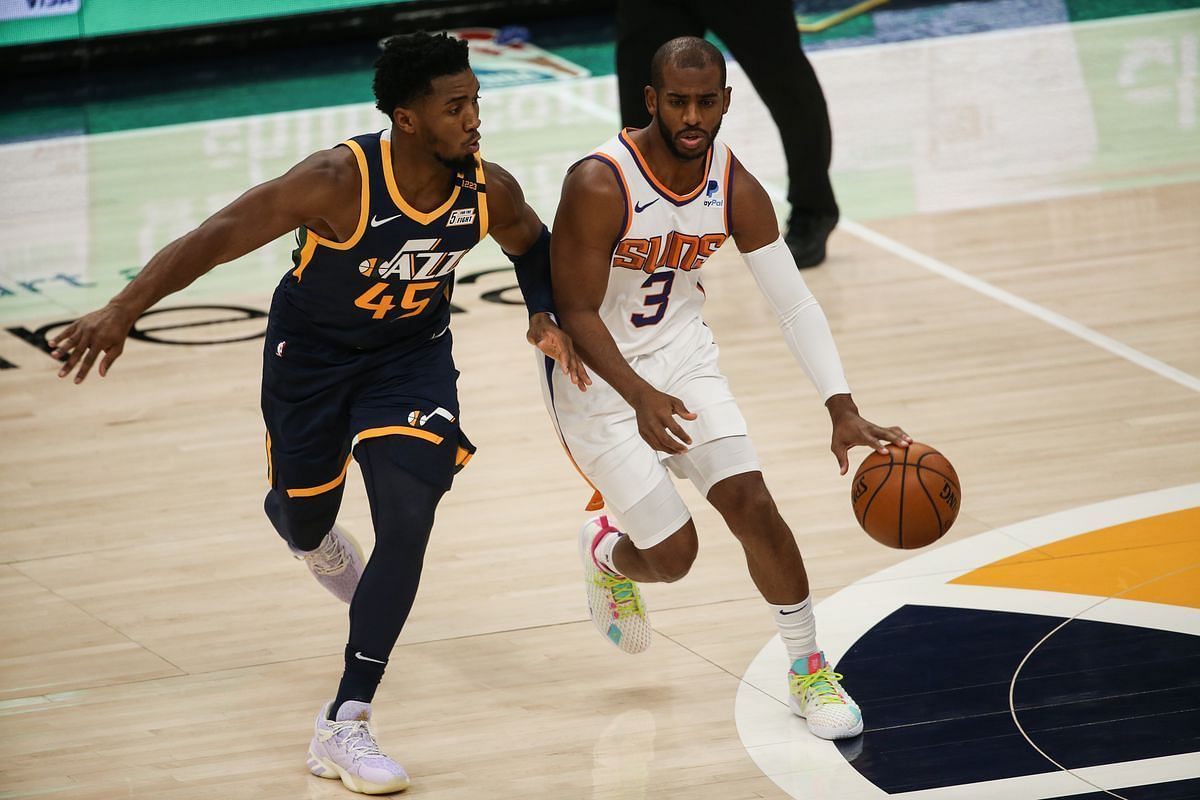 NBA 2021-22 will see Utah Jazz facing off against Phoenix Suns on Thursday, 27 January 2022 at 08:30 AM IST
Monty Williams' charges are in sizzling form yet again, reeling off seven straight wins in the last two and a half weeks. The duo of Chris Paul and Devin Booker carried the now 37-9 Suns, as they have all season long, to another victory. Paul, was spectacular with a season-high 27 points, highlighted by 15 points in the fourth quarter.
The now 30-18 Utah Jazz are coming off back-to-back losses to the Golden State Warriors and Phoenix Suns, holders of the top two records in the NBA. Although both games were close, the Jazz were unable to execute with poise down the stretch in both outings.
Phoenix Suns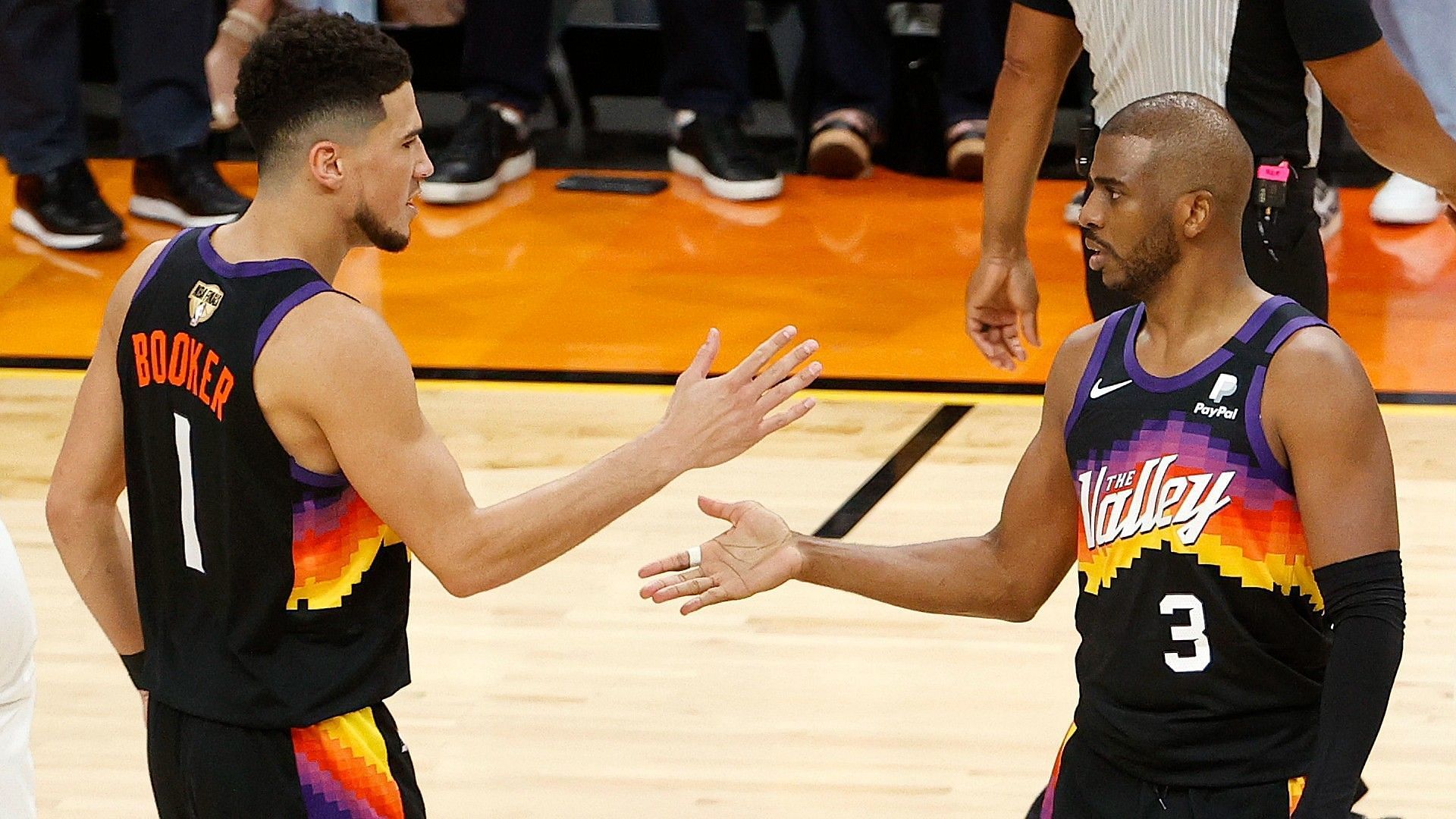 The Phoenix Suns ability to deal with adversity shined through in their win against the Utah Jazz. They have been able to manufacture wins despite injuries and players trooping into health and safety protocols. There's a reason why they currently have the best record in the NBA by a significant margin.
In addition to Chris Paul and Devin Booker, the Phoenix Suns were able to hold off the Jazz behind the performance of unheralded players Cameron Johnson and Bismack Biyombo. The pair combined for 36 points and 19 rebounds to more than makeup for the absence of Deandre Ayton and Jae Crowder. Phoenix will once again count on the two to help their superstar duo.
Key Player - Chris Paul
Chris Paul, also known as the "Point God," continues to defy Father Time. The 36 year old played a team-high 40 minutes against the Jazz, putting up a rebound short of a triple-double. Paul finished with 27 points, 14 assists and 9 rebounds in yet another clutch performance for the Phoenix Suns.
The Phoenix Suns hardly missed a beat without Ayton and Crowder because of Paul's ability to get the most out of his teammates. Cameron Johnson and Bismack Biyombo played with aplomb due in part to how the superstar point guard marshaled them on the floor.
Chris Paul pulling the strings towards the end of the game against the Jazz was a perfect example of his ability to impact both ends of the floor.
Utah Jazz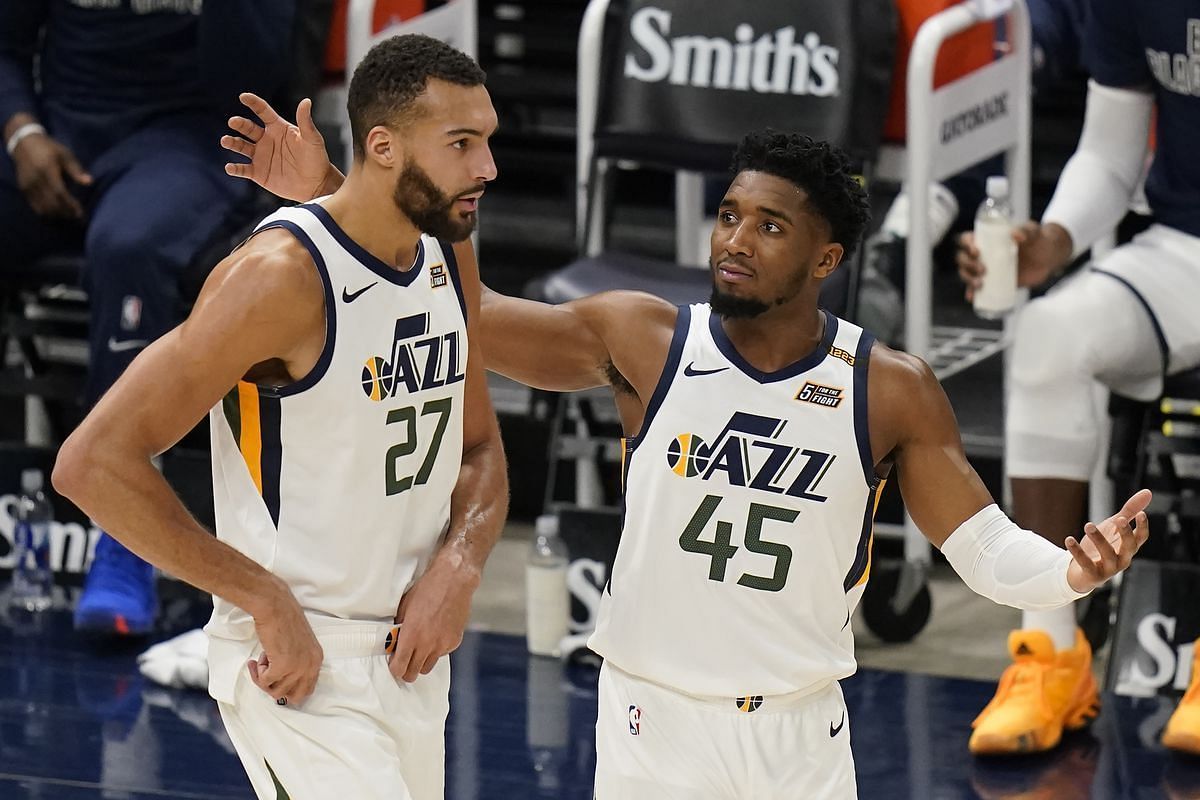 The Utah Jazz are crippled with injuries heading into this encounter. Two-time NBA All-Star Donovan Mitchell has been in the NBA's concussion protocol since the team's loss to the LA Lakers on January 18th. During this time the Jazz have gone 1-3 in Mitchell's absence.
Meanwhile, another big name player in Rudy Gobert has also been ruled out due to a left calf strain. The team will surely miss Goberts defensive play, rebounding and imposing presence in the paint.
Without the dynamic duo, Utah will have to count on the rest of the roster to pull together. Jordan Clarkson replaced Mitchell in the starting unit but struggled to shoot consistently, putting up just 22 points on 20 shots. Hassan Whiteside covered for Gobert but is clearly nowhere near the deterrent on defense that the latter is.
Mike Conely is slated to come back after getting his well-deserved rest. He should be able to provide a steadying hand to run the offense and help contain the Suns' impressive backcourt.
Key Player - Mike Conley
Mike Conley remains one of the best under-the-radar point guards in the NBA despite making the All-Star team last season. Now in his third season playing for the Utah Jazz, the veteran playmaker has been producing his usual efficient numbers, averaging 14 points, 3 rebounds, 5.2 assists and 1.1 steals this season.
Fantasy Tips
Phoenix Suns team has the upper hand over Utah Jazz team. So try to pick more players from Phoenix Suns
Small League Must Picks:
UTA:
Rudy Gobert [1073 points], Donovan Mitchell [928 points]
PHX:
Chris Paul [1395 points], Devin Booker [1072 points]
Grand League Risky Picks:
UTA:
Eric Paschall [147 points], Hassan Whiteside [402 points]
PHX:
Landry Shamet [423 points], Jae Crowder [588 points]
Utah Jazz Key Players:
Royce O'Neale
Bojan Bogdanovic
Mike Conley
Donovan Mitchell
Rudy Gobert
Phoenix Suns Key Players:
Deandre Ayton
Cameron Johnson
Mikal Bridges
Devin Booker
Chris Paul
Best Choice for Captain and Vice-Captain:
Mike Conley
Deandre Ayton
Donovan Mitchell
Mikal Bridges
Rudy Gobert
Chris Paul
Injury/unavailable
Utah Jazz NBA Team Injuries:
There are no injury updates as of now.
Phoenix Suns NBA Team Injuries:
There are no injury updates as of now.
Squads
Utah Jazz Squad:
Donovan Mitchell, Mike Conley, Joe Ingles, Bojan Bogdanovic, Eric Paschall, Royce ONeale, Rudy Gobert, Hassan Whiteside, Danuel House, Jared Butler, Trent Forrest, Elijah Hughes, Jordan Clarkson, Rudy Gay, Udoka Azubuike
Phoenix Suns Squad:
Chris Paul, Devin Booker, Landry Shamet, Mikal Bridges, Cameron Johnson, Jae Crowder, Deandre Ayton, JaVale McGee, Abdel Nader, Ishmail Wainright, Dario Saric, Elfrid Payton, Bismack Biyombo, Cameron Payne, Jalen Smith, Frank Kaminsky
UTA vs PHX Dream11 Experts Team
Dream11 SL Team
This Page Contains
dream 11 predictions, dream11 winning prediction, dream11 teams, dream11 winning teams, dream11 fantasy prediction, dream11 Fantasy NBA prediction, dream11 prediction for UTA vs PHX, dream11 prediction UTA vs PHX, NBA 2021-22 series, UTA vs PHX dream11 prediction, UTA vs PHX fantasy prediction, UTA vs PHX live score, UTA vs PHX live updates, UTA vs PHX best dream11 team, UTA vs PHX winning teams, UTA vs PHX winning tips and tricks, UTA vs PHX fantasy tips, UTA vs PHX dream11 NBA prediction, best dream11 NBA prediction app, dream11 NBA prediction today match, NBA telegram channel