PHX vs MIA Dream11 Team Prediction, Fantasy NBA Tips
Phoenix Suns vs Miami Heat Dream11 Match Prediction
NBA 2021-22
PHX vs MIA Dream11 Prediction, Playing 7, Fantasy NBA Tips and Pitch Report | NBA 2021-22
Last Updated on Jan 12, 2022 10:38 AM
Match Date & Time:
2022-01-09 07:30 AM (IST)
2022-01-09 02:00 AM (GMT)
Footprint Center, Phoenix, AZ.
Match Previews: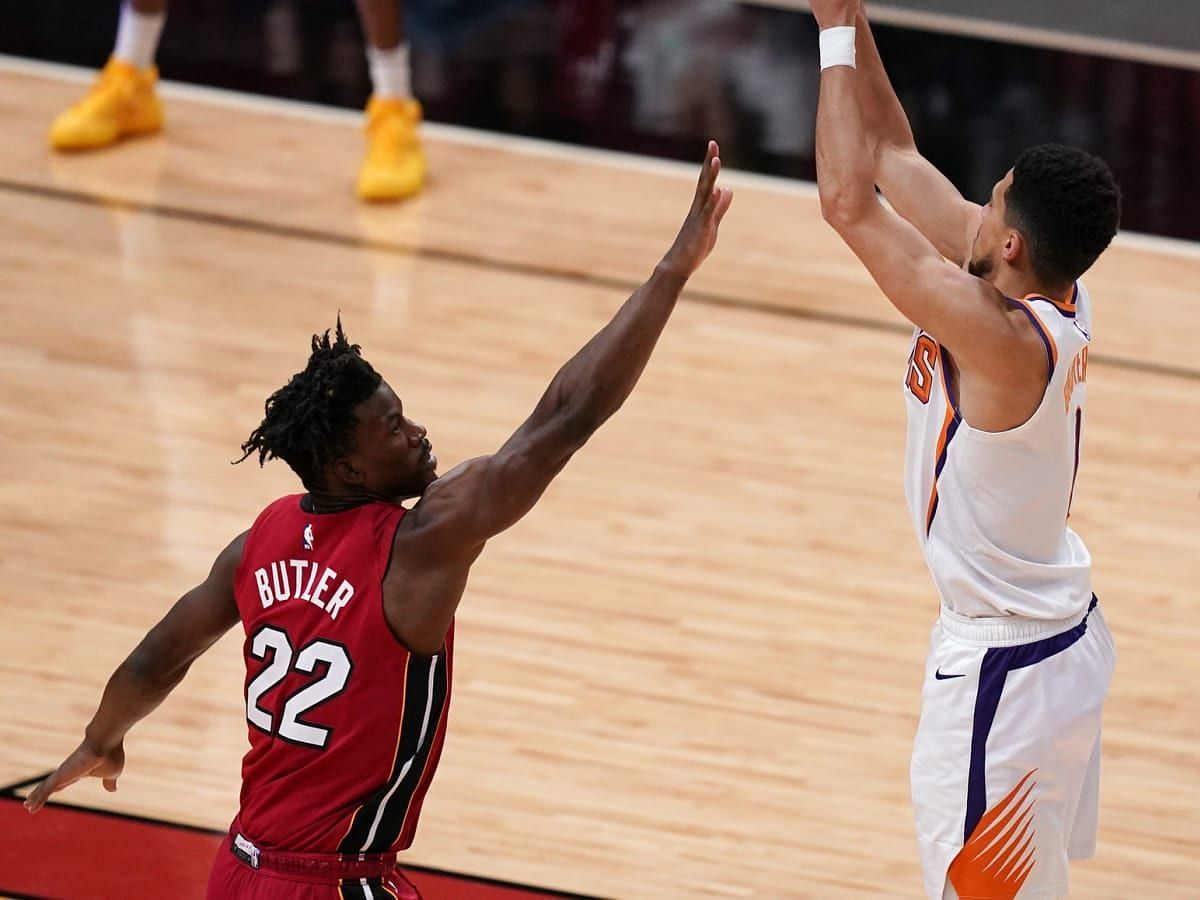 NBA 2021-22 will see Phoenix Suns facing off against Miami Heat on Sunday, 09 January 2022 at 07:30 AM IST
Despite the absence of Jimmy Butler, and the ejection of Kyle Lowry and Tyler Herro, the Heat managed to repulse the Portland Trail Blazers in their last game.
Max Strus, Omer Yurtseven and PJ Tucker carried the team to another incredible win on the road.
The Phoenix Suns, meanwhile, have gotten back Deandre Ayton, JaVale McGee and Jae Crowder, who missed a few games while under the NBA's health and safety protocols.
They are now as healthy as any team in the league, and will be favored against the short-handed Heat.
Miami Heat
The Miami Heat are 12-5 when at least two of Kyle Lowry, Jimmy Butler and Bam Adebayo are not in the lineup.
Even with a spate of injuries and the COVID-19 outbreak, they are only three games behind the Chicago Bulls for the best record in the East.
Tyler Herro and Kyle Lowry will be back against the Phoenix Suns, which is great news. The Miami Heat, though, will continue to miss Jimmy Butler, who injured his ankle against the Golden State Warriors.
Max Strus was on fire against the Blazers, and was ably supported by PJ Tucker and Omer Yurtseven.
Head coach Erik Spoelstra has been making teas out of the lemonade he's been dealing with. The huge strides of the young crew will only make them stronger once Bam Adebayo and Jimmy Butler are back.
Key Player - Kyle Lowry
Kyle Lowrys veteran poise and championship pedigree are paying dividends for the Miami Heat, particularly when the other veteran superstars are out. He has been guiding the development of emerging young stars. Lowry has been vocal on and off the court, which has instilled confidence in the youngsters.
Phoenix Suns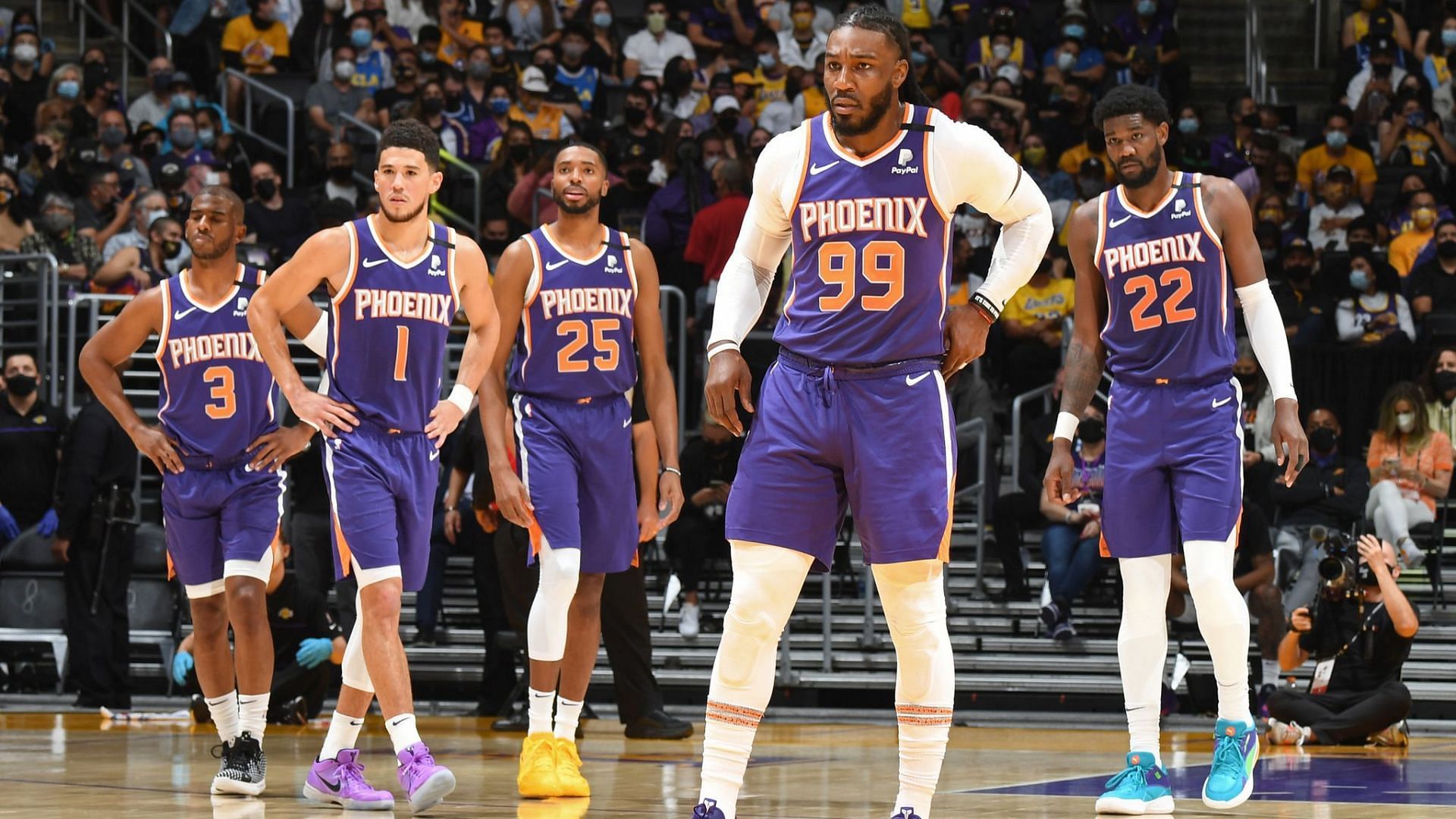 Like the Miami Heat, the Phoenix Suns have dealt with adversity in great fashion. They hired Bismack Biyombo, who hasn't played in the NBA in months, and made him look like he never left the league. There has also been significant improvement in Jalen Smith and Cameron Johnson.
Smith had a double double of 19 points and 14 rebounds, while Johnson had a team-high 24 points with seven rebounds.
For them to win with Devin Booker scoring only 11 points in an off-night shows just how good the Phoenix Suns are.
The superstar backcourt of Chris Paul and Devin Booker are playing better than they did in last season's NBA Finals appearance.
Even with a makeshift roster, they just continue to roll on. They are expected to lead the Suns again against the gritty and never-say-die attitude of the Heat.
Key Player - Chris Paul
Chris Paul had another ageless performance against the Clippers. He finished with 14 points, a career-high 13 rebounds, ten assists and two steals. It's almost impossible that he only had one turnover despite his usage.
Fantasy Tips
Phoenix Suns team has the upper hand over Miami Heat team. So try to pick more players from Phoenix Suns
Small League Must Picks:
PHX:
Chris Paul [1053 points], Devin Booker [724 points]
MIA:
Kyle Lowry [596 points], Tyler Herro [447 points]
Grand League Risky Picks:
PHX:
M.J. Walker [12 points], Frank Kaminsky [58 points]
MIA:
Nik Stauskas [6 points], Max Strus [254 points]
Phoenix Suns Key Players:
Mikal Bridges
Deandre Ayton
Cameron Johnson
Devin Booker
Chris Paul
Miami Heat Key Players:
Bam Adebayo
Jimmy Butler
P.J. Tucker
Tyler Herro
Kyle Lowry
Best Choice for Captain and Vice-Captain:
Bam Adebayo
Jimmy Butler
Tyler Herro
Mikal Bridges
Deandre Ayton
Chris Paul
Injury/unavailable
Phoenix Suns NBA Team Injuries:
There are no injury updates as of now.
Miami Heat NBA Team Injuries:
There are no injury updates as of now.
Squads
Phoenix Suns Squad:
Chris Paul, Devin Booker, Landry Shamet, Mikal Bridges, Cameron Johnson, Jae Crowder, Deandre Ayton, JaVale McGee, Frank Kaminsky, Abdel Nader, Ishmail Wainright, Emanuel Terry, Dario Saric, Elfrid Payton, Paris Bass, Bismack Biyombo, Cameron Payne, Jalen Smith, Chandler Hutchison, Justin Jackson
Miami Heat Squad:
Kyle Lowry, Tyler Herro, Duncan Robinson, Jimmy Butler, Max Strus, P.J. Tucker, Bam Adebayo, Dewayne Dedmon, Zylan Cheatham, Gabe Vincent Nnamdi, Udonis Haslem, Marcus Garrett, Victor Oladipo, Caleb Martin, Kezie Okpala, Markieff Morris, Omer Yurtseven
This Page Contains
dream 11 predictions, dream11 winning prediction, dream11 teams, dream11 winning teams, dream11 fantasy prediction, dream11 Fantasy NBA prediction, dream11 prediction for PHX vs MIA, dream11 prediction PHX vs MIA, NBA 2021-22 series, PHX vs MIA dream11 prediction, PHX vs MIA fantasy prediction, PHX vs MIA live score, PHX vs MIA live updates, PHX vs MIA best dream11 team, PHX vs MIA winning teams, PHX vs MIA winning tips and tricks, PHX vs MIA fantasy tips, PHX vs MIA dream11 NBA prediction, best dream11 NBA prediction app, dream11 NBA prediction today match, NBA telegram channel