Match Previews:
K7 Qualifiers Rajasthan will see NAR facing off against SAE on Saturday, 11 December 2021 at 19:00 PM IST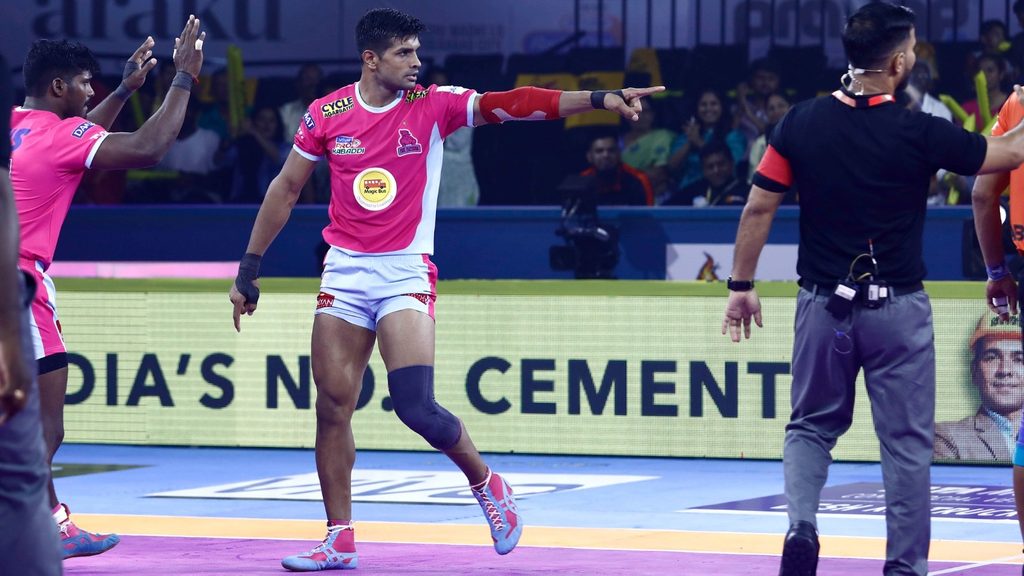 In the last game on the penultimate day of the K7 Qualifiers Rajasthan sees Nahargarh Rangers and Salasar Express kickstart their campaigns.
A win here will be a big boost for either side heading into the final day of games on Sunday and we expect a good contest here as these sides aim to qualify for the K7 World Kabaddi Series
Fantasy breakdown:
Nahargarh Rangers:
Sahil Jandu is the primary raiding option of the Nahargarh Rangers and is a must-have pick in this one.
Sadanand Chand leads the Rangers and is a reliable defender pick as he almost always generates good returns.
Amit is a fine all-rounder pick from the Nahargarh Rangers and look for him to have someimpact on both ends.
Salasar Express:
Yuvraj Meena is a very good option among the raiders in this one and expect him toconsistently make inroads into enemy territory.
Umang Sharma is the best pick among the defenders in this game and is a no-brainer of a pick here.
Sardar Choudhary is the captain for Salasar Express and is a key contributor in bothphases of the game, making him a great pick for the fantasy team.
Live Telecast:
The match will be live telecast on Star Sports
Fantasy Tips
Both are good. You can choose any of one.
NAR team has the upper hand over SAE team. So try to pick more players from NAR
Small League Must Picks:
NAR:
Amit-I [0 points], Kamal Gora [0 points]
SAE:
Umang Sharma [0 points], Sonu Dhaiya [0 points]
Grand League Risky Picks:
NAR:
Rahul Kumar-I [0 points], Sadanand Chand [0 points]
SAE:
Neeraj Kumar [0 points], Sardar Choudhary [0 points]
NAR Key Players:
Kamu Khan
Pushpender Choudhary
Dhara
Sahil Jandu
Salasar Express Key Players:
Kanaram Choudhary
Neeraj Kumar
Krishan Sharma
Sardar Choudhary
Best Choice for Captain and Vice-Captain:
Dhara
Krishan Sharma
Sardar Choudhary
Sahil Jandu
Injury/unavailable
NAR Kabaddi Team Injuries:
There are no injury updates as of now.
SAE Kabaddi Team Injuries:
There are no injury updates as of now.
Squads
Nahargarh Rangers Squad:
Dhara, Sohan, Kamu Khan, Hansraj, Nitin Kumar-M, Pushpender Choudhary, Sahil Jandu, Sadanand Chand, Rahul Kumar-I, Amit-I, Rahul Choudhary-R, Kamal Gora
Salasar Express Squad:
Neeraj Kumar, Krishan Sharma, Deepesh Kumar, Naveen Kumar, Sardar Choudhary, Mohammed Arshad, Kanaram Choudhary, Vinod Choudhary, Sonu Dhaiya, Kamlesh Saini, Yuvraj Meena, Umang Sharma
NAR vs SAE Dream11 Experts Team
Dream11 SL Team Dream11 GL Team
This Page Contains
dream 11 predictions, dream11 winning prediction, dream11 teams, dream11 winning teams, dream11 fantasy prediction, dream11 Fantasy Kabaddi prediction, dream11 prediction for NAR vs SAE, dream11 prediction NAR vs SAE, K7 Qualifiers Rajasthan series, NAR vs SAE dream11 prediction, NAR vs SAE fantasy prediction, NAR vs SAE live score, NAR vs SAE live updates, NAR vs SAE best dream11 team, NAR vs SAE winning teams, NAR vs SAE winning tips and tricks, NAR vs SAE fantasy tips, NAR vs SAE dream11 Kabaddi prediction, best dream11 Kabaddi prediction app, dream11 Kabaddi prediction today match, Kabaddi telegram channel