Match Previews:
KT Wiz will be squaring off against Lotte Giants in the KBO on Saturday, 16 April 2022 at 13:30 PM IST
KT Wiz (KTW) vs Lotte Giants (LOG) Team Updates:
In a tale of two struggling teams, fifth placed Lotte Giants will be colliding with an ailing KT Wiz who are in the rock-bottom of the points table and their current form, definitely seems way out of line with minimal firepower whatsoever.
The Giants have managed to secure 6 wins so far while they have slumped down to five defeats.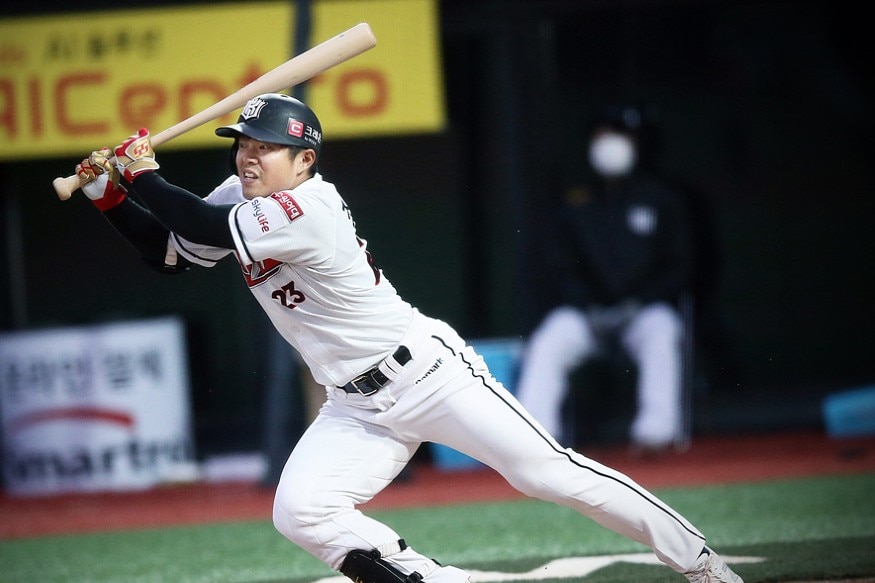 The KT Wiz has only won two games out of the 11 games that they have played so far with their batters not able to come up with something significant.
Top Picks to consider:
DJ Peters is one of the finest picks in the roster of the KBO and currentlyleads the list for captaincy choices with 38 fantasy points.
Bae Jeong-dae has been in phenomenal form with one single, one run that he has batted in so far and also a run that he managed to score in the last game.
Live Telecast:
The match will be live telecast on Star Sports
Fantasy Tips
In Catching, Both are good. However Ji Si-wan is the better choice.
Odrisamer Despaigne, Kim Jin-uk will be the starting Pitchers.
Lotte Giants team has the upper hand over KT Wiz team. So try to pick more players from Lotte Giants
Small League Must Picks:
KTW:
Bae Jeong-dae [37 points], Hwang Jae-gyun [26 points]
LOG:
DJ Peters [38 points], Kim Jin-uk [34 points]
Grand League Risky Picks:
KTW:
Kim Jun-tae [4 points], Odrisamer Despaigne [13 points]
LOG:
Go Seung-min [7 points], Ji Si-wan [10 points]
KT Wiz Key Players:
Cho Yong-ho
Kim Min-hyuck
Hwang Jae-gyun
Shim Woo-jun
Lotte Giants Key Players:
Jung Hoon
An Chi-hong
DJ Peters
Han Dong-hee
Best Choice for Captain and Vice-Captain:
Cho Yong-ho
Jung Hoon
Kim Min-hyuck
Shim Woo-jun
DJ Peters
Han Dong-hee
Injury/unavailable
KT Wiz Baseball Team Injuries:
There are no injury updates as of now.
Lotte Giants Baseball Team Injuries:
There are no injury updates as of now.
Squads
KT Wiz Squad:
Kim Min-hyuck, Cho Yong-ho, Henry Ramos, Kim Byung-hee, Hwang Jae-gyun, Shim Woo-jun, Oh Yoon-suk, Odrisamer Despaigne, Kim Jun-tae, Hong Hyun-Bin, Bae Jeong-dae, Shin Bon-gi, Kim Min-su Jr, Jang Sung-woo, Kim Tae-hoon II, Park Kyung-su, Kang Baek-ho, Ko Young-pyo, Han Ji-woong, Jeon Yong-ju, So Hyeong-jun, An Gwang-jun, Lee Sang-woo, Jung Jung-woo, Kim Young-hyun, Kwon Sung-jun, Kim Han-byeol, Lim Do-hyeok, Lee Jong-hyeok, Park Si-yun, Park Ju-hyeon, Park Yeong-hyun, Song Hyun-je, Yoon Kang-chan, Woo Jong-hwi, Ahn Hyun-min, Kim Man-su, Bae Je-seong, Ko Seong-min, Ha Joon-ho, Moon Sang-chul, Cheon Seong-ho, Lee Chang-jae, Kwon Dong-jin, Ryu Hee-woon, Ju Kwon, Kim Jae-yoon, Um Sang-back, Baek Seon-gi, Jung Sung-gon, Choi Dong-hee, Park Shi-young, Choi Seong-min, Cho Dae-hyun, Jeon Jin-young, An Hyeon-jun, Kim Byeong-jun, Ahn Young-myung, Park Byung-ho, Jo Hyun-woo, Han Cha-hyeon, Kim Dae-hyun, Ji Myeong-seong, Jo Byeong-uk, Lee Jung-hyun, Shim Jae-min, Shin Bum-joon, Jun Yu-soo, Shin Byung-ryul, Kim Tae-o, Moon Sang-in, An Chi-young, Kim Soung-hun, Han Gi-won, Kim Sung-kyun, Moon Sang-jun, Yang Seung-hyuk, Jeong Ju-hu, Song Min-sub, Ryu Jun-kyu, Yun Jun-hyeok, Go Myeong-seong, William Cuevas
Lotte Giants Squad:
Jeon Jun-woo, DJ Peters, Go Seung-min, Jung Hoon, Lee Dae-ho, An Chi-hong, Han Dong-hee, Glenn Sparkman, Ji Si-wan, Park Seung-wook, Kim Jin-uk, Jeong Bo-keun, Kim Jae-Yoo, Choo Jae-hyun, Kim Dae-woo, Kim Min-su Sr, Kim Min-soo, Moon Kyung-chan, Charlie Barnes, Park Se-woong, An Joong-yeol, Cho Mu-geun, Choi Keon, Ha Hye-seong, Jin Seung-hyun, Kang Min-sung, Jung Dae-hyeok, Kyung Woo-jin, Lee Min-seok, Lee Tae-o, Park Jin, Shin Hak-jin, Kim Seung-joon, Shin Yong-su, Eum Jang-yoon, Min Seong-woo, Lee In-bok, Cho Se-jin, Kim Dong-hyeok, Lee Hak-ju, Lee Seung-heon, Han Tae-yang, Kim Dong-wook, Kim Se-min, Na Seung-yeup, Kim Seo-jin, Kim Young-wan, Yoon Dong-hee, Yoon Seong-pin, Song Jae-young, Lee Ho-yeon, Kim Won-joong, Kim Chang-hoon, Kang Yoon-gu, Bae Sung-keun, Koo Seung-min, Kim Yoo-young, Jin Myung-ho, Seo Jun-won, Choi Young-hwan, Lee Kang-jun, Park Jin-hyung, Choi Jun-yong, Kang Lo-han, Kim Gang-hyun, Kim Do-gyu, Jung Sung-jong, Kang Tae-yul, Park Seon-woo, Ra Won-tak, Choi Min-jae, Na Gyun-an, Jang Du-seong, Kim Ju-hyun, Kim Dong-woo, Park Jae-min, Jeong Woo-jun
KTW vs LOG Dream11 Experts Team
Dream11 SL Team
This Page Contains
KTW vs LOG match prediction
,
LOG vs KTW match prediction
,
KT Wiz vs Lotte Giants match prediction
,
KTW vs LOG dream11 match prediction
,
KTW vs LOG fantsy prediction
,
KTW vs LOG fantasy tips
,
KBO League match prediction
,
KBO League dream11 prediction
,
KBO series
,
KTW vs LOG dream11 Tips and Trics
,
KTW vs LOG Dream11 Winning team
,
KTW vs LOG dream11 grand league winning team
,
KTW vs LOG dream11 small league winning team
,
KTW vs LOG dream11 SL team
,
KTW vs LOG dream11 GL team
,
KTW vs LOG todays Dream11 Winning Team
,
KTW vs LOG match updates
,
KTW Squads
,
LOG Squads
,
KT Wiz Squads
,
Lotte Giants Squads
,
KTW vs LOG probable playing 11
,
KTW vs LOG confirm playing 11
,
KTW vs LOG match previews
,
KTW team updates
,
LOG team updates
,
KT Wiz team updates
,
Lotte Giants team updates
,
KTW vs LOG top picks
,
KTW vs LOG Captain and Vice-Captain Choices
,
KTW vs LOG Dream11 Experts Team
,
KTW vs LOG Telegram channel
,
Baseball Telegram channel
,
KTW vs LOG Today match prediction
,
Dream11 today match prediction
,
Today Baseball match prediction
,
KTW vs LOG live updates
,
2022-04-16 13:30:00 Baseball matches
,
All matches on Saturday
,
List of Baseball matches on Saturday 16th April 2022
,