Join us for updates, analysis and colour from the first day of the fourth Test
10.35am: Root rumbled by pace
First ball after drinks, and Mohammed Siraj celebrates his return to the side by pinning Joe Root plumb lbw! Perfect length straight up, jags back at a sedentary England captain to rap him on both pads in front of middle and off - and there's no review, Root knew he hadn't gone anywhere. No real demons in the pitch so far, but plenty in English heads, it seems.
Welcome to day one of our live report of the fourth India-England Test from Ahmedabad. Join us for updates, analysis and colour. You can find our traditional ball-by-ball Score here
10.15am: Zak attack falls flat
Two in two overs for Patel, as Zak Crawley's not-going-to-die-wondering approach fails to come off! Similar to Crawley's dismissal right at the very start of England's tour in Sri Lanka, when he hit Lasith Embuldeniya to mid-off; after stroking four down the ground a few balls earlier, this time he couldn't get to the pitch and spooned a simple catch to Siraj, who barely had to move. That means Crawley is closing in on a full house against left-arm spin, having fallen three times to Patel in this series, and four out of four to Embuldeniya in Galle.
10am: Axar on, Dom off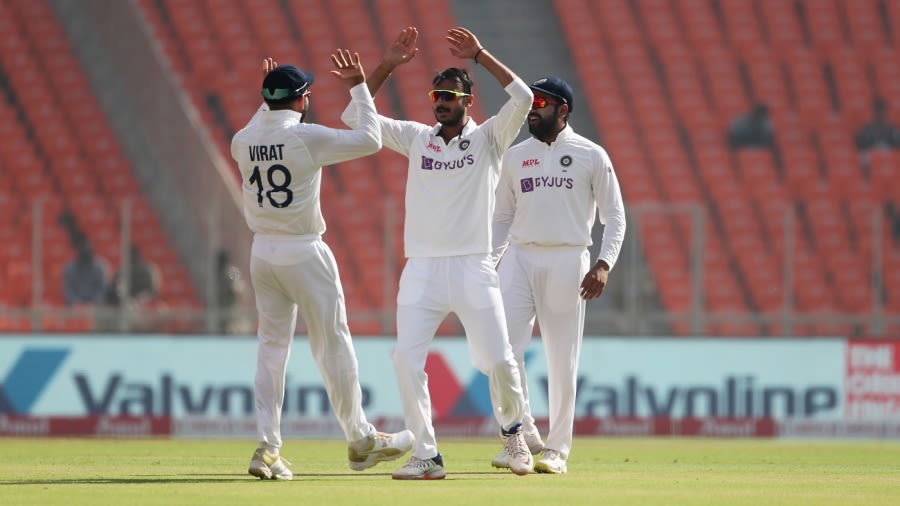 Axar Patel got an early breakthrough yet again
Spin into the mix for the sixth over, and quickly England have to get into Indiana Jones mode. Sure enough, it takes just two balls for Axar Patel to strike and take his Test match bowling average below nine... and again it's the tricksy non-turner that does the damage, as Dom Sibley plays forward looking for spin, but only succeeds in deflecting an inside edge on to his leg bail. Couldn't even say the ball before had spooked him by ragging big, as Sibley had smothered it - but I suppose the horse has already bolted when it comes to England's mentality against spin. Another false start from the openers, who have just one partnership above 17 from 11 innings this winter.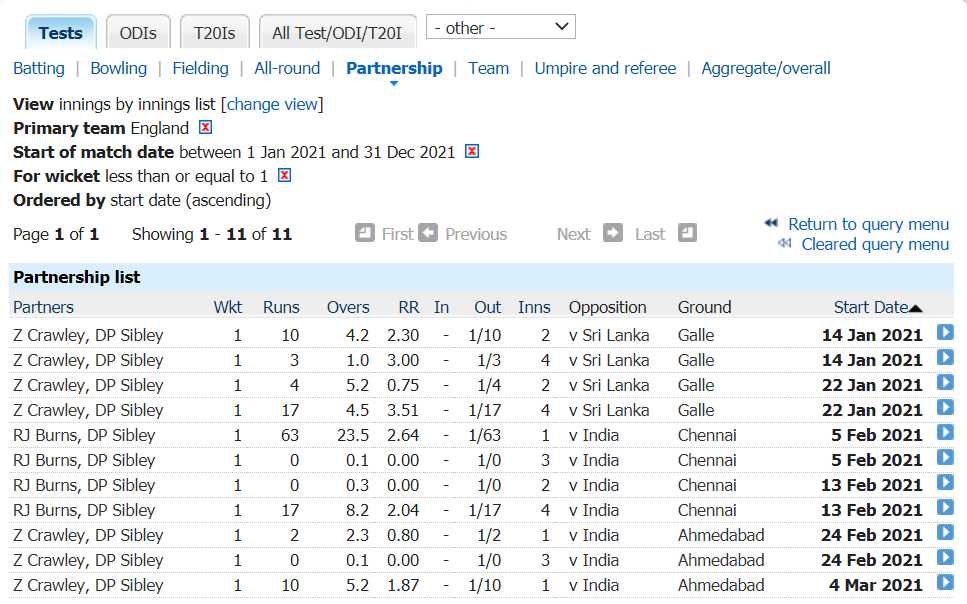 9.45am: Sighters
So, is it going to be bunsen burner, nice little earner for Virat Kohli and his side once again? You couldn't blame them for taking that route, given the way England's batting has crumbled since making 578 in the very first outing of the series - and all suggestions before the start here were that Motera would dust up nicely with a red ball, as it did for the pink (albeit that so many dismissals in the third Test came from non-turning deliveries). Anyway, for now it's a classical diet of new-ball seam, India starting off with Ishant Sharma and Mohammed Siraj in harness; Ishant snaked one into Zak Crawley's front pad in the opening over, but DRS showed it to be going over the top. To whet the appetite for what's to come, I'll leave you with this little chat between Sanjay Manjrekar and Raunak Kapoor on the subject of turning pitches in India.
9.25am: WTC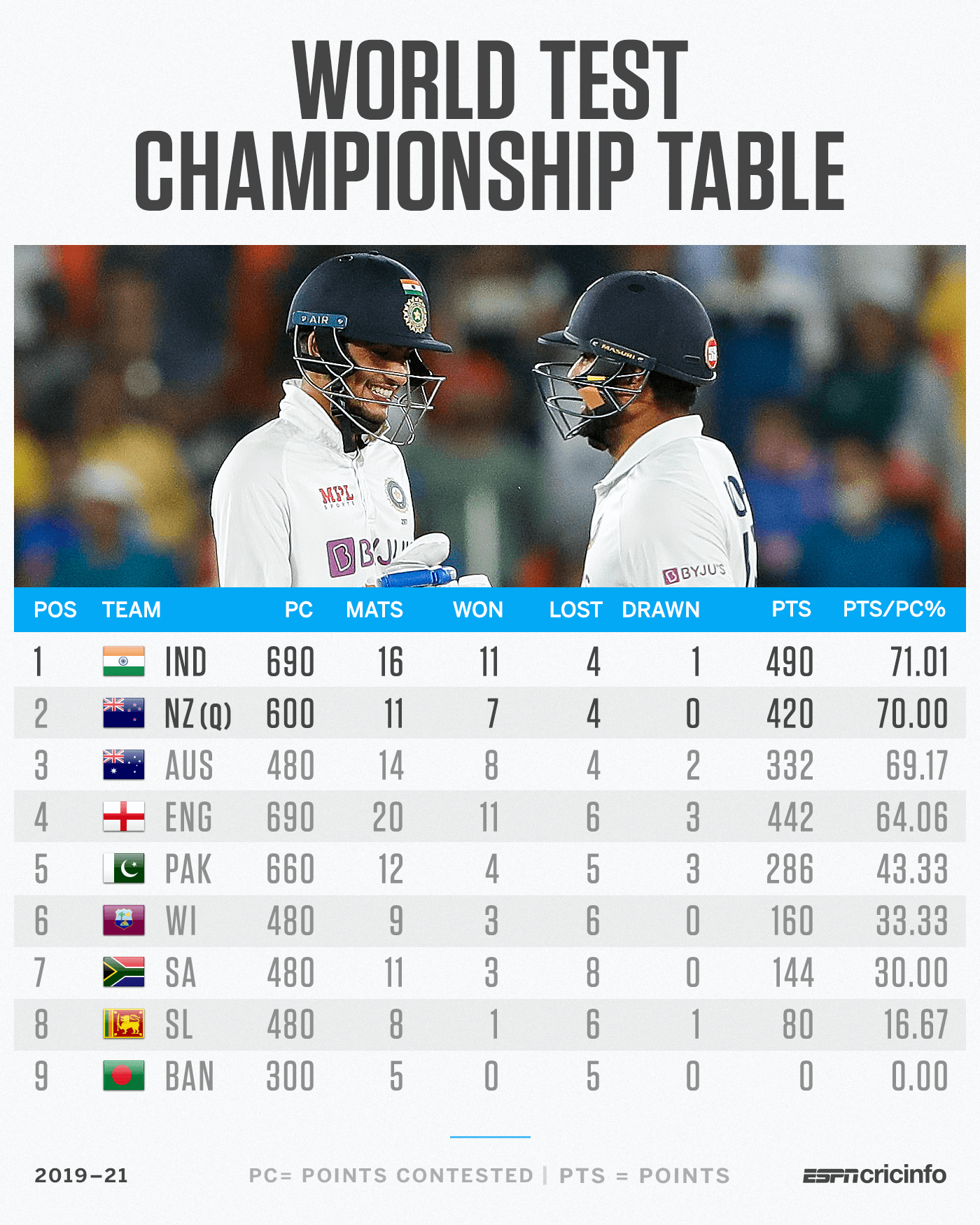 The state of play: India need only to avoid defeat to secure their spot in the World Test Championship final. England, meanwhile, can only play the role of party poopers, but they'll have Australia - the team that would benefit from an India defeat - barracking for them. Beyond the added WTC context, England are aiming to become only the fourth team since 1984 to win two Tests in a series in India.
9.05am: England win toss and bat
G'day and welcome to our rolling report of the fourth Test. It's crunch time in the race for World Test Championship qualification, and the last stop on England's six-match subcontinental odyssey... and Joe Root has won his third toss of the series. What does that mean for the next five four few days? The tourists have made a couple of changes, altering the balance of their side by bringing in batsman Dan Lawrence and spinner Dom Bess, with seamers Jofra Archer and Stuart Broad dropping out. India, having already released Jasprit Bumrah, have included Mohammed Siraj in his place. Of course, were this a report from the red carpet at an awards show, everyone would be dying for a word with the pitch. "Do you listen to the critics? How are you holding together? Can you top last week's performance?" Not long now until we find out just how many booby traps have been installed for the second game in Ahmedabad.