Match Previews:
NBA 2021-22 will see New Orleans Pelicans facing off against LAC on Friday, 14 January 2022 at 06:30 AM IST
What I like about Pelicans is that their players have improved over the season and the team has discovered spark from players other than Ingram and Valanciunas.
While Ingram is the undisputed scoring ace for the team and can put up 20 or more on a regular basis.
Valanciunas helps seize the boards and also help out scoring-wise while Devonte Graham is a decent perimeter option.
But the spark has come from rookie Herbert Jones and Josh Hart, both increasing their scoring and Hart as a hustle all-around player.
The bench is not that effective but Nickeil Alexander-Walker has been having a decent scoring season.
Will the Pelicans make some moves before the trade deadline expires or will they develop the current core and hope that it serves well once Zion returns.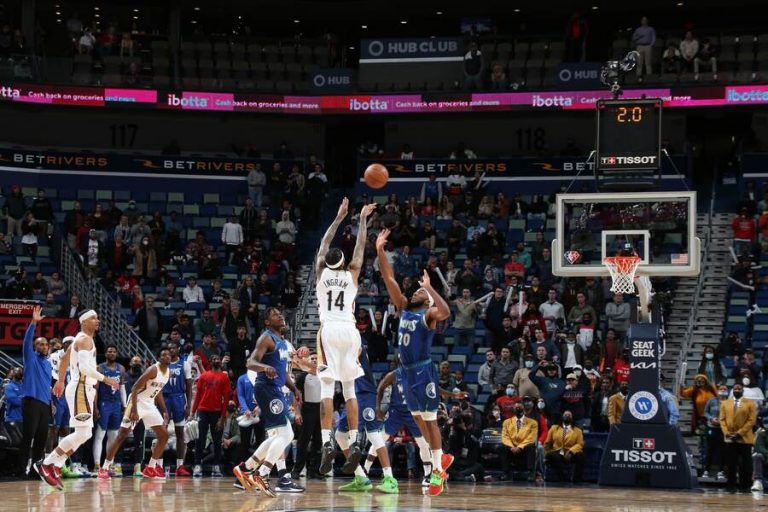 New Orleans has some versatile players and if they improve their defense, they can become a decent 50% win team down the line even without Zion.
Clippers have won the last two after having lost three in a row earlier, but those losses are not surprising but the last win against Nuggets was certainly a pleasant surprise for the LA Clippers.
The team has an experienced squad with Morris, Bledsoe, Jackson, Batum, and Ibaka have been around for around a decade now.
While Jackson hasn't been shooting well, he has been crucial for the team to attract opposing perimeter defenses, meanwhile, Morris has filled up the scoring column regularly, while Bledsoe has been doing well in whatever minutes he gets.
Batum is more of a defensive threat and Ibaka gives decent production. Amir Coffey has scored 15+ in two straight games for the team that desperately needs such production.
On the other hand, Terance Mann has the potential to expand his scoring range while Zubac and Boston jr. can fill up 8 or so regularly.
The Clippers have somehow kept a 50% win record thanks to their experience and ability to recover from bad nights.
New Orleans Pelicans | Los Angeles Clippers
Games: 41| 42
Wins: 15| 21
Defeats: 26| 21
Fantasy Tips
Los Angeles Clippers team has the upper hand over New Orleans Pelicans team. So try to pick more players from Los Angeles Clippers
Small League Must Picks:
NOP:
Jonas Valanciunas [287 points], Brandon Ingram [244 points]
LAC:
Paul George [884 points], Eric Bledsoe [826 points]
Grand League Risky Picks:
NOP:
Feron Hunt [0 points], Tomas Satoransky [75 points]
LAC:
Xavier Moon [55 points], Brandon Boston [288 points]
NOP Key Players:
Nickeil Alexander-Walker
Devonte Graham
Josh Hart
Brandon Ingram
Jonas Valanciunas
LAC Key Players:
Terance Mann
Ivica Zubac
Eric Bledsoe
Paul George
Best Choice for Captain and Vice-Captain:
Devonte Graham
Josh Hart
Brandon Ingram
Ivica Zubac
Eric Bledsoe
Paul George
Injury/unavailable
NOP NBA Team Injuries:
There are no injury updates as of now.
LAC NBA Team Injuries:
There are no injury updates as of now.
Squads
New Orleans Pelicans Squad:
Devonte Graham, Nickeil Alexander-Walker, Tomas Satoransky, Brandon Ingram, Garrett Temple, Josh Hart, Jonas Valanciunas, Herbert Jones, Feron Hunt, Jose Alvarado, Jared Harper, Willy Hernangomez, Jaxson Hayes, Kira Lewis Jr., Justin James, Naji Marshall, Gary Clark, Marcos Louzada, Trey Murphy, Zion Williamson
Los Angeles Clippers Squad:
Eric Bledsoe, Luke Kennard, Brandon Boston, Paul George, Terance Mann, Marcus Morris, Ivica Zubac, Isaiah Hartenstein, Xavier Moon, Serge Ibaka(C), Keon Johnson, Reggie Jackson, Wenyen Gabriel, Moses Wright, Jay Scrubb, Jason Preston, Amir Coffey, Justise Winslow, Kawhi Leonard, Nicolas Batum
This Page Contains
dream 11 predictions, dream11 winning prediction, dream11 teams, dream11 winning teams, dream11 fantasy prediction, dream11 Fantasy NBA prediction, dream11 prediction for NOP vs LAC, dream11 prediction NOP vs LAC, NBA 2021-22 series, NOP vs LAC dream11 prediction, NOP vs LAC fantasy prediction, NOP vs LAC live score, NOP vs LAC live updates, NOP vs LAC best dream11 team, NOP vs LAC winning teams, NOP vs LAC winning tips and tricks, NOP vs LAC fantasy tips, NOP vs LAC dream11 NBA prediction, best dream11 NBA prediction app, dream11 NBA prediction today match, NBA telegram channel