ENG-W vs GER-W Dream11 Team Prediction, Fantasy Hockey Tips
England-Women vs Germany-Women Dream11 Match Prediction
FIH Pro League Womens
FIH Pro League (Women): ENG-W v GER-W - Charlotte Stapenhorst can prove to be a lethal choice for captaincy
Match Time: 2021-05-14 00:30:00
Match details:
FIH Pro League (Womens)
England vs Germany
Date. 14th April 2020 (12:30 am)
Match Previews: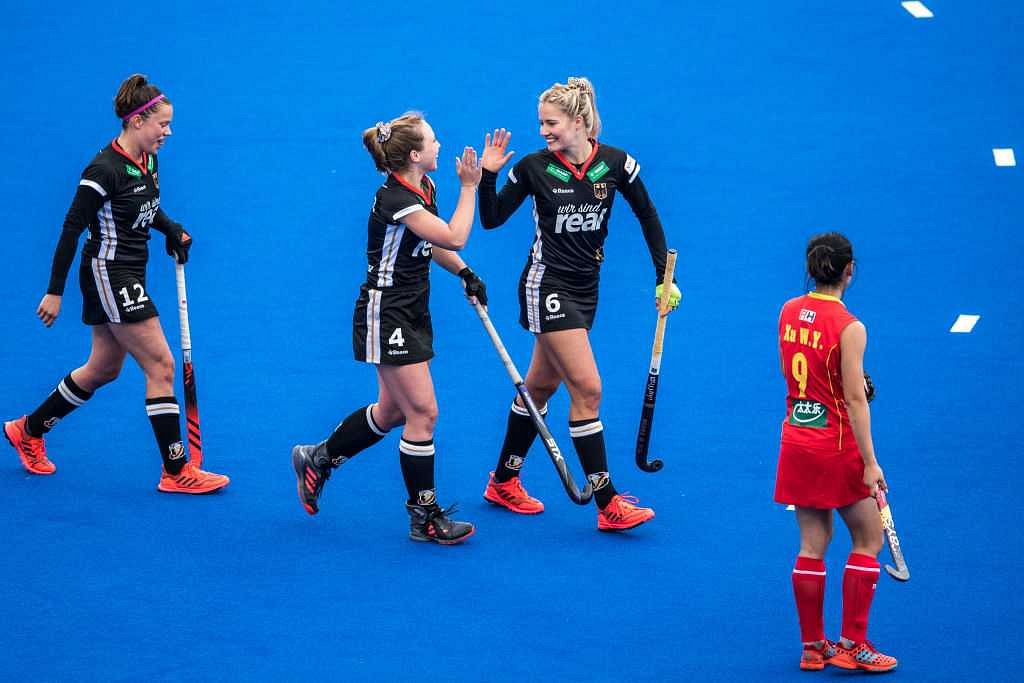 England will host the FIH Pro League game against Germany at Lee Valley Hockey & Tennis Centre, London, England. In the last encounter between both sides, Germany managed to secure a comfortable win by a scoreline of 3-2. Germany are currently placed at the third position on the FIH Pro League points table with 4 wins and 13 points. On the other side, England placed at the sixth position on the points table with 2 wins and 11 points.
After examining the recent form and statistics of these two sides, Germany are the slight favorites to secure a win in today's encounter.
Current form (W-L)
England
: LWWLL
Germany
: WWLLL
Top picks:
England
Laura Unsworth - 10 International goals
Susannah Townsend – 11 International goals
Sarah Robertson - 8 International goals
Germany
Charlotte Stapenhorst – 30 International goals
Lena Micheel – 12 International goals
Janne Muller Wieland – 6 International goals
Fantasy Tips
Captain and vice-captain options:
Charlotte Stapenhorst
Lena Micheel
Sarah Robertson
Laura Unsworth
Susannah Townsend
Squads
England-Women Squad :
Sabbie Heesh, Anna Toman, Laura Unsworth, Grace Balsdon, Amy Costello, Tessa Howard, Sarah Robertson, Susannah Townsend, Sarah Jones, Lily Owsley, Elizabeth Neal, Isabelle Petter, Emily Dark, Maddie Hinch, Jo Hunter, Esme Burge, Charlotte Watson, Miriam Pritchard, Hollie Pearne-Webb, Giselle Ansley, Sophie Hamilton, Leah Wilkinson, Elena Rayer, Hannah Martin, Shona McCallin, Holly Hunt, Sarah Evans, Emily Defroand, Amy Tennant, Fiona Crackles
Germany-Women Squad :
Nathalie Kubalski, Nike Lorenz, Janne Wieland Muller, Maike Schaunig, Selin Oruz, Sonja Zimmermann, Pia Maertens, Cecile Pieper, Pauline Heinz, Lena Micheel, Charlotte Stapenhorst, Elisa Grave, Anna Kilian, Naomi Heyn, Hannah Gablac, Lisa Altenburg, Viktoria Huse, Hanna Granitzki, Kira Horn, Rebecca Grote, Lisa Nolte, Franzisca Hauke, Anne Schroder, Philin Bolle, Kurz Stine, Amelie Wortmann, Nele Aring, Teresa Pelegrina Martin, Emma Davidsmeyer, Katharina Kirschbaum, Lara Birkner, Katharina Kiefer, Carlotta Sippel, Emma Boermans, Nicola Pluta, Alisa Vivot, Julia Sonntag, Jette Fleschutz, Liv Arndt, Rosa Kruger
Dream11 SL Team
This Page Contains
dream 11 prediction, dream11 winning prediction, dream11 teams, dream11 winning teams, dream11 fantasy prediction, dream11 fantasy Hockey prediction, dream11 prediction for ENG-W vs GER-W, dream11 prediction ENG-W vs GER-W, FIH Pro League Womens series, ENG-W vs GER-W dream11 prediction, ENG-W vs GER-W fantasy prediction, ENG-W vs GER-W live score, ENG-W vs GER-W live updates, ENG-W vs GER-W best dream11 team, ENG-W vs GER-W winning teams, ENG-W vs GER-W winning tips and tricks, ENG-W vs GER-W fantasy tips, ENG-W vs GER-W dream11 Hockey prediction,best dream11 Hockey prediction app, dream11 Hockey prediction today match, dream 11 prediction Hockey telegram channel