ADL vs SYD Dream11 Team Prediction, Fantasy Football Tips
Adelaide United vs Sydney FC Dream11 Match Prediction
A League
ADL vs SYD Dream11 Team Prediction Tips for Adelaide United vs Sydney FC A League Live Score 29 May
Last Updated on Jun 01, 2021 04:08 PM
Match Time: 2021-05-29 14:40:00
Date: 29 May, Saturday
Time: 2:40 PM (IST)
Venue: Coopers Stadium, Adelaide
Match Previews:
ADL vs SYD Dream11: Adelaide United made it two wins from three as they overcame Melbourne Victory last time out but they will have to improve as they take on reigning champions Sydney.
The away side have won their last three games and have done so without conceding with their defence excelling at present.
The hosts will be confident of achieving an upset in this one, especially as they are unbeaten in their last eight on home soil.
They too are defending well of late other than conceding four against league leaders Melbourne City and with both teams proving difficult to break down, this should be a tight affair with no more than two goals set to be scored.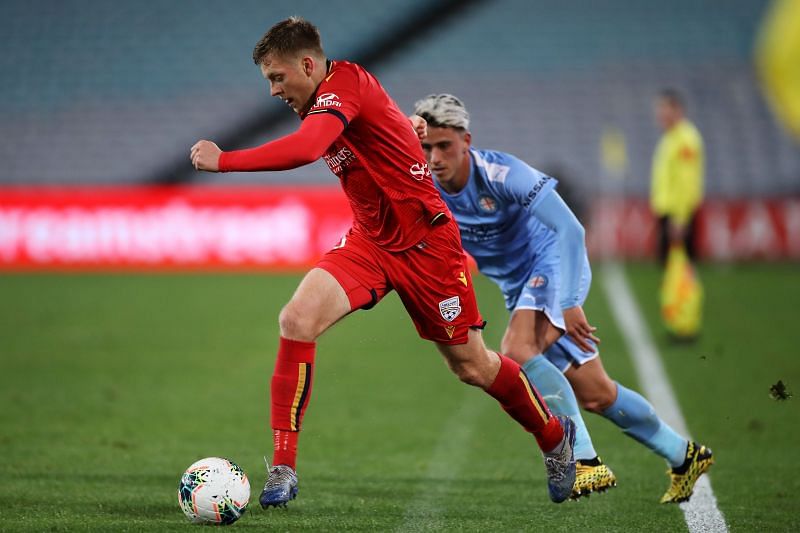 X-factors, differential picks
Stefan Mauk: Mauk has 7 goals and a total of 29 shots on goals. This results in a goal conversion rate of 29.73%. He had a total of 10 big chances. He has a total of 2 assists, 7 key passes and he created a total of 11 chances.
Fantasy Tips
Recent form:
Adelaide United – W-L-W-L-D
Sydney FC – W-W-W-D-L
Head-to-head (last five meetings)
ADL Wins- 01
Draws– 02
SYD Wins– 02
ADL vs SYD Dream11 Today Match Prediction Details
Adelaide United News
Injury Report and Unavailability: Ryan Kitto, Yared Abetew, and Nathan Konstandopoulos are currently injured and will be unable to play a part in this fixture.
Expected changes and Strategy: Adelaide United were impressive against Melbourne Victory and are unlikely to make drastic changes to their team.
Sydney FC News
Injury Report and Unavailability: Christopher Zuvela remains injured, however, and will be excluded from the squad.
Expected changes and Strategy: Adam Pavlesic was involved in a clash in the in December but has made progress with his recovery and is available for selection.
Squads
Adelaide United Squad :
James Delianov, Ryan Strain, Jordan Elsey, Michael Jakobsen, Ryan Kitto, Javi Lopez-Rodriguez, Joshua Cavallo, Ben Halloran, Stefan Mauk, Craig Goodwin, Alhassan Toure, Yared Abetew, Kusini Yengi, Michael Marrone, George Timotheou, Yaya Dukuly, Mohamed Toure, Tomi Juric, Joe Gauci, Cooper Nunn, Juan De Dios Lopez, Dakota Ochsenham, Noah Smith, Joe Caletti, Nathan Konstandopoulos, Domenic Costanzo, Louis DArrigo, Bernardo Oliviera, Pacifique Niyongabire, Jonny Yull
Sydney FC Squad :
Andrew Redmayne, Alex Wilkinson, Ryan Mcgowan, Joel King, Rhyan Grant, Anthony Caceres, Milos Ninkovic, Luke Brattan, Deyvison Rogerio da Silva, Kosta Barbarouses, Adam Le Fondre, Jordi Swibel, Alexander Baumjohann, Ben Warland, Patrick Flottmann, Michael Zullo, Adam Pavlesic, Tom Heward-Belle, Callum Talbot, Trent Buhagiar, Levi Kaye, Luke Ivanovic, Paulo Retre, Chris Zuvela, Patrick Yezbek, Harry Van-der-Saag, Calem Nieuwenhof, Patrick Wood
Dream11 SL Team
This Page Contains
dream 11 predictions, dream11 winning prediction, dream11 teams, dream11 winning teams, dream11 fantasy prediction, dream11 Fantasy Football prediction, dream11 prediction for ADL vs SYD, dream11 prediction ADL vs SYD, A League series, ADL vs SYD dream11 prediction, ADL vs SYD fantasy prediction, ADL vs SYD live score, ADL vs SYD live updates, ADL vs SYD best dream11 team, ADL vs SYD winning teams, ADL vs SYD winning tips and tricks, ADL vs SYD fantasy tips, ADL vs SYD dream11 Football prediction, best dream11 Football prediction app, dream11 Football prediction today match, Football telegram channel